Yosemite West Property &
Homeowners, Inc.
---
Grant Status: Completed
YWPHI has been awarded $75,655 provided by a National Fire Plan grant from the U.S.D.A. Forest Service through the California Fire Safe Council (FSC). The project is funded via the Cooperative Forestry Assistance, CFDA #10.664. The basis for this funding is for the support or stimulation of a public purpose under the Cooperative Forestry Assistance Act of 1978 as amended and the Consolidated Security, Disaster Assistance, and Continuing Approporiations Act of 2009, PL 110-329.
With the successful completion of two prior National Fire Plan grants, full inter-agency cooperation is bringing more money to fund fire safety projects that benefit all of Yosemite West.
| Grant Number | Total Project Cost | Funding Awarded | Matching Funds Provided | % of Match to Total Project Cost | Project Name | Project Goals |
| --- | --- | --- | --- | --- | --- | --- |
| 09USFS-X0126 | $75,655 | $61,495 | $14,160 | 19% | Yosemite West Improve Defensible Space Within Community | to create defensible space in accordance with PRC 4291 on 30% of the parcels (approximately 90 parcels) in Yosemite West or 36 acres of the 109 acres in Yosemite West |
The grant is to improve defensible space within the community by helping fund fuel reduction on parcels within Yosemite West. This is different from our previous grant, which funded a shaded fuel break on land outside of and around the perimeter of Yosemite West.
The primary goal is to reduce the amount of flammable fuels on vacant lots and create defensible space around all structures so that spot fires are less likely to occur, and when they do occur, fire fighters have a greater probability of suppressing them. Property owners will treat hazard fuels around their structures, their parking areas and driveways and on their vacant lots and along roads to create as much defensible space as possible. This will reduce the amount of fuels that could easily ignite and spread a wildland fire and improve access for firefighters. The work will be done using the standards outlined in PRC§4291 and in publications by the Fire Safe Council or Firewise Communities.
Please refer to the Yosemite West Community Wildfire Protection Plan (CWPP) for additional information about this project. The project (#1) is summarized in Appendix H - Projects Summary. Appendix H also contains a Phase I Projects/Parcel Map that shows the area (YW-006) included in this project.
The project's measurable objectives include:
• the number of parcels that participate translated into total acreage treated; and
• improvement in the Hazard Values of structures from the 2008 Red Zone Survey results, which were mailed to homeowners on November 15, 2008.
Upon hearing the news, Mariposa County Fire Chief Jim Wilson said: "Congratulations on the successful grant. Thanks to YWPHI, Yosemite West is becoming a model community in Mariposa County."
History of 2009 Grant
Date
Timeline
February 2008
YWPHI submits a grant proposal to the California Fire Safe Council.
March 2008
The California Fire Safe Council does not select this grant for funding in the first round.
November 2008
The California Fire Safe Council selects this grant for funding in a subsequent round.
March 2009
YWPHI expects to sign the grant agreements with the California Fire Safe Council and its fiscal sponsor. Once this administrative process is complete, we will start the planning phase. We will schedule planning meetings with property owners during early spring 2009 to enlist voluntary participation and explain the details of this project. We expect work will take place between May and July 2009.
April 2009
The California Fire Safe Council processed the signed grant agreement on April 9, 2009.
May 2009
Mailed Yosemite West Defensible Space Project information packet to all property owners of record in Yosemite West on May 5, 2009. The information packet contains these documents:

May 2009
Community planning meetings to discuss the project are scheduled for:


Wednesday, May 13, 2009, 7-8 p.m.

18 people representing 24 parcels attended the meeting; 72% in person and 28% by conference call.

Saturday, May 16, 2009, 5-6 p.m.

13 people representing 15 parcels attended the meeting; 69% in person and 31% by conference call.


May 5, 2009
We received environmental impact clearance for the project.
May 16, 2009
We are currently waiting for approval that the project is in compliance with all applicable cultural resource laws before funds are released and work can be scheduled and started.
June 5, 2009

The U.S. Bureau of Land Management (BLM) informed us that they have completed their cultural resource compliance review of our project. BLM concurs that our project is in compliance with the National Historic Preservation Act (NHPA). This is the last step in the review process prior to release of funds. As soon as the California Fire Safe Council receives the funds from USDA Forest Service, they will be able to make payments to our fiscal sponsor and work on the ground can start. The Fire Safe Council reminds us that they do not know when this will happen.

The cultural resources of concern are archaeological finds relating to activities of the Yosemite Lumber Company, which operated in the Yosemite West area between 1912 and 1923. These include steel cable and hardware such as pulleys, high-cut stumps, logging spur roads, and similar artifacts and features from logging operations. When the contractor encounters any artifacts or features that may be related to historic logging activities, the contractor will mark them with flagging tape or small flags, avoid disturbing them, note the type of find and the lot it is located on and provide this in written form to YWPHI.

June 28, 2009
Deadline to sign up to participate in the project extended from July 1 to July 15, 2009.
July 2, 2009
The California Fire Safe Council informed YWPHI today that they received the grant funds from the U.S.D.A. Forest Service and authorized payment to the project's fiscal sponsor. We will be announcing the project's start date next week and contacting residents about scheduling work on their property.
July 11, 2009
Work on the defensible space project is scheduled to begin Thursday, July 23rd. The crew will be working in Yosemite West through mid September. If you have not already signed up to participate, we welcome sign ups through Friday, July 17th. Download the Tentative Work Schedule to determine the dates when we anticipate work will be done on your property; parcels are grouped into color-coded work zones.
August 31, 2009
Work is complete on 56% of the parcels, and in progress on an additional 11% of the parcels. Project completion is projected for October 7, 2009; scheduling issues, logistics, and equipment breakdowns required adjusting the original tentative work schedule.
October 8, 2009
We successfully completed all of the on-the-ground work on October 8, 2009. The project's goal was to conduct fuel reduction on 30% of the 293 parcels or 90 parcels (ie, 30% of the 109 acres or 36 acres) in Yosemite West. We exceeded the goal by treating 101 parcels (58 houses and 43 vacant lots) on approximately 37 acres. We estimate the project cut and chipped 1330 tons of fuel.
November 2009
To further measure the success of the project, the Mariposa County Fire Department compiled a Red Zone fire risk assessment of all houses in Yosemite West.
December 7, 2009
Mailed a summary letter of the 2009 Red Zone Fire Risk Assessment to every property owner of record in Yosemite West. View sample before and after pictures.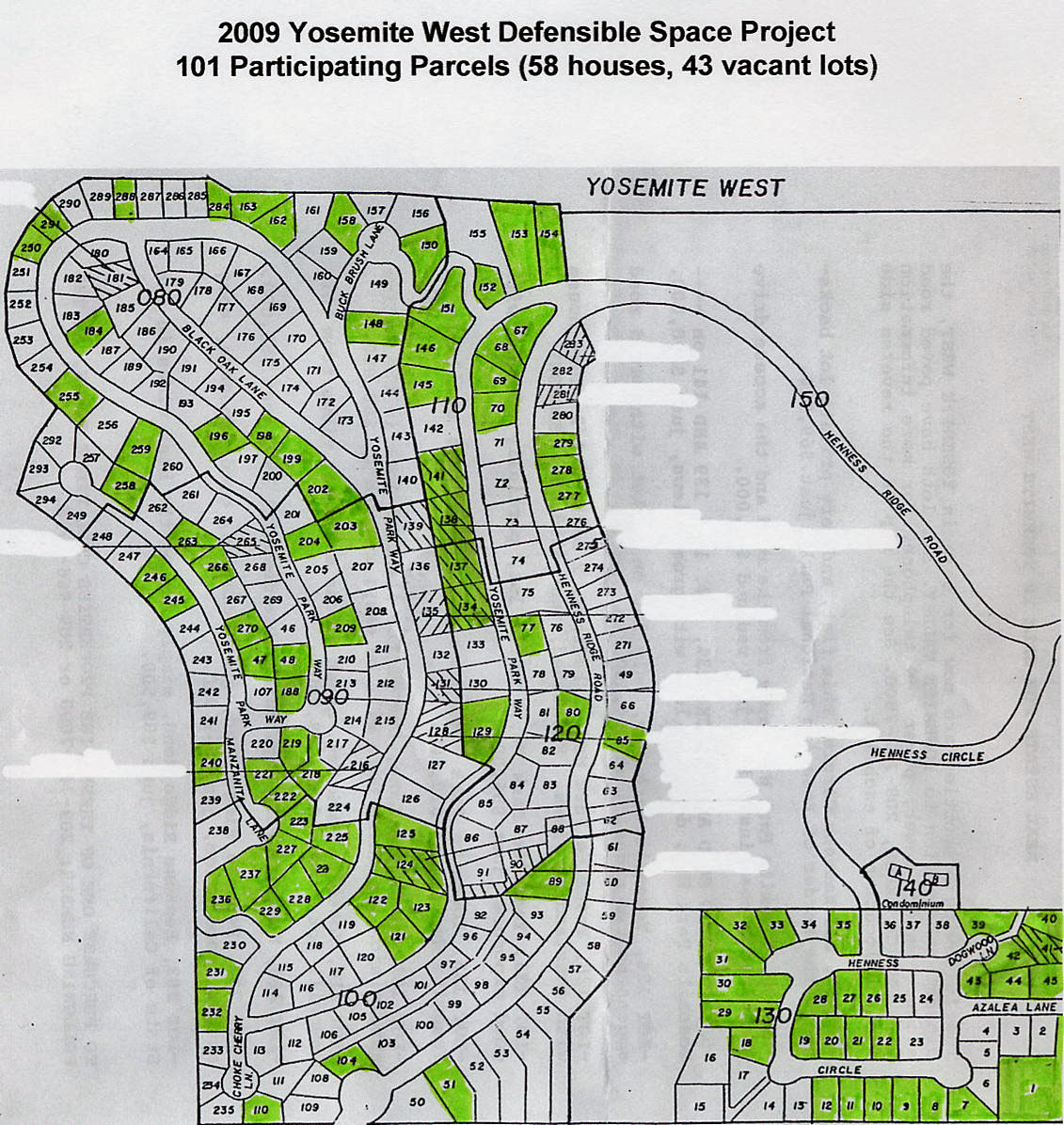 Back to << Yosemite West Fire Safety Grants
Back to << Fire Safety in Yosemite West
Forward to >> What Residents can do to Build a Fire Safe Community

---

Site Map
Copyright text © Yosemite West Property & Homeowners, Inc. 2003-2017. Copyright photographs © John Mock 2004-2017.
All rights reserved. Unauthorized redistribution of this document is prohibited. Updated December 28, 2016.