Yosemite West Property &
Homeowners, Inc.
---
In the Event of Emergency
In case of emergency, call 911. To assist emergency service personnel in locating you, make sure your street address is adequately displayed. Refer to the detailed information about residence signs.
The Mariposa County Sheriff's Office introduced a new communications service, Nixle Community Information Service, effective April 28, 2014, that replaces the now discontinued CodeRED alert. Nixle allows the Sheriff to send important community information directly to residents in a timely manner.
Nixle delivers messages to registered users instantly via landline phone calls, cell phone calls, text message and/or email; you select what type of information you want to be notified about and how many ways you want to receive it. Registered users will be rapidly informed of emergency information, fire evacuation information, other relevant safety information, etc.
Sign Up for Nixle
To sign up, go to the Nixle website or complete and return the Mariposa County Sheriff Office's Nixle - Emergency Notification System Registration by snail mail or fax.
Residents need to sign up with Nixle to receive notifications. If you previously signed up for CodeRED, you still need to sign up for Nixle.
Evacuation Plan
The Yosemite West Community Emergency Preparedness Plan was developed cooperatively by the National Park Service, Sierra National Forest and the Mariposa County Sheriff, Fire Chief and Office of Emergency Services, and approved in 2012. In the event that an emergency incident necessitates evacuation of the Yosemite West community, the plan provides guidance in three basic steps: preparation, notification, and the evacuation process.
The plan discusses what to do before disaster threatens. It explains the criteria for an Evacuation Alert or an Evacuation Order and what to do in response to one. The evacuation process is detailed including traffic control and security issues. An Evacuation Map (see below) for Yosemite West has arrows indicating the roads to be used by motorists. Everyone should keep this map readily accessible in their house. If you're trapped, the plan offers survival tips.
Download and read the Yosemite West Community Emergency Preparedness Plan.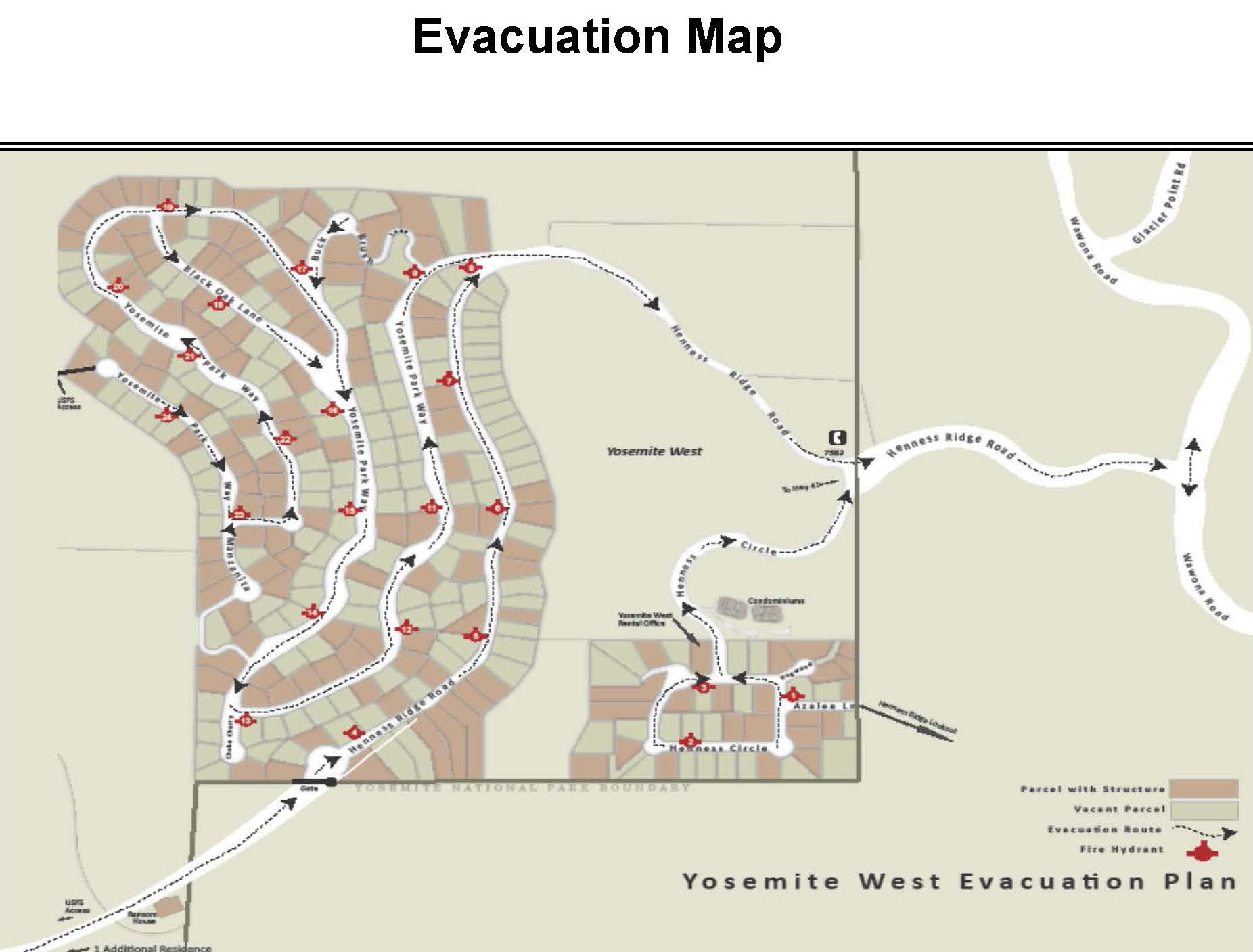 The Mariposa County Event Information Line, 209-966-1133 and 888-966-1133, is designated to provide information to the public during emergencies and disasters. Intervals between these events are used to share information, in particular, safety and education related items, with the community. These messages are created and provided by the Mariposa County Health Department, Mariposa County Sheriff's Office, and the Mariposa County Fire Department. The number can still be called during power outages but you must own and have ready, a corded phone that plugs directly into a wall.
For additional information about emergencies, disasters, and community preparedness, visit the following websites:
Fire
Fire 911
Yosemite Valley fire dispatch (209) 379-1998 & (209) 372-1992
Prescribed Burn Information Line (209) 375-9577 & (209) 372-0491

Medical
Medical emergency & ambulance 911
Advise dispatch of your hospital preference, e.g., Community Regional Medical Center (UCSF-Fresno) or St. Agnes Hospital in Fresno, or Doctor's Medical Center in Modesto
Yosemite Medical Clinic (209) 372-4637

Law Enforcement
Doug Binnewies, Sheriff; email: sheriff@mariposacounty.org
Mariposa County Sheriff (209) 966-3614, (800) 774-8314

Water Outage
Mariposa County Public Works Dept. (209) 966-5356

Power Outage
PG&E (800) 743-5002
Vehicle Trouble & Towing
Yosemite Garage (209) 372-8320
Wawona Garage (209) 375-6567


---

Site Map
Copyright text © Yosemite West Property & Homeowners, Inc. 2003-2016, Copyright photographs © John Mock 2004-2016.
All rights reserved. Unauthorized redistribution of this document is prohibited. Updated June 7, 2016.