Yosemite West Property &
Homeowners, Inc.
---
Mountain Living
Call (209) 372-0200 (press '1' and '1' again from the menu options) for recorded information about the status of park roads and any chain requirements.
---
Call toll free (800) 736-1252 to reach county administration offices, Monday through Friday, 8 a.m. to 5 p.m.
Rosemarie Smallcombe, Supervisor District 1 (as of 1/1/2015), email: rsmallcombe@mariposacounty.org
(209) 966-3222, fax (209) 966-5147
5100 Bullion Street, PO Box 784, Mariposa, CA 95338


Larry Harris, Assistant Director
email: lharris@mariposacounty.org


Sarah Williams, Director
Alvaro Arias, Senior Planner
(209) 966-5151, (209) 742-1215, fax (209) 742-5024, email: mariposaplanning@mariposacounty.org


Visit the Planning Department website to read the Yosemite West Special Plan.

The Planning Department handles zoning violations. Call or email to request a complaint form; complaints should be submitted in writing as to opposed to given over the telephone.

(866) 723-5151, (209) 966-3934, email: mariposabuilding@sierratel.com


(209) 966-4330, 5200 Bullion Street, P.O. Box 162, Mariposa, CA 95338
Interim Fire Chief Doug Binnewies, email: cjackson@mariposacounty.org (former Chief Jim Wilson)


Call the Registrar of Voters at (209) 966-2007 to request absentee ballots.


(209) 966-2332, email: mariposaassessor@sierratel.com


(209) 966-2621, email: taxcoll@mariposacounty.org


Yosemite Branch (209) 372-4552
Wawona Branch (209) 375-6510



Animal Control

Barking dog complaints
(209) 966-3615


---
Yosemite National Park gate-pass vehicle stickers are available to Yosemite West property owners by application instructions.

Yosemite West property owners are eligible to obtain a Yosemite entrance fee exemption vehicle sticker for each of their currently registered vehicles. The free sticker is issued by the National Park Service and assists entrance station rangers in identifying those exempt from entrance fees, thus expediting access to your property.

A vehicle sticker will be issued to all property owners listed on the deed for the property or on the country's property tax inventory. Stickers cannot be issued to non-registered vehicles or vehicles not registered to the names provided on the property deed.

Mail, fax (209-372-0406), or email (yose_vehicle_stickers@nps.gov) a copy of (1) current registration for each vehicle sticker requested, (2) valid driver's license of registered owner of vehicle(s), and (3) deed or property tax information to:

National Park Service
Attn: Fee Management Office
P.O. Box 577
Yosemite, CA 95389-0577

The stickers will be mailed to you.


---
Emergency service personnel strongly encourage residents to post a three-inch reflective address numbers against a contrasting background at the end of their driveways (and at any fork in your driveway) and on their houses. Should an emergency arise, emergency service personnel cannot help you if they cannot easily find you!
Make sure the address is clearly visible from 100 feet in all directions of travel from the road. The sign should be installed approximately four feet in height above the ground and no higher than six feet.
Residence signs are available from the SPCA, 5599 Hwy. 49 North, Mariposa, (209) 966-5275. Download the order form, which you can complete and mail in with your payment. The SPCA is open from 10 a.m. to 3 p.m. Tuesday through Saturday.
You can also purchase address numbers from these places:
Mariposa County Sheriff's Department, SCOPE (209) 878-0702; $15 plus $6 shipping
Mariposa County Fire Safe Council, (209) 966-7700
Foster's True Value Hardware; $18, (209) 966-2692
Coast Hardware, (209) 966-2527
---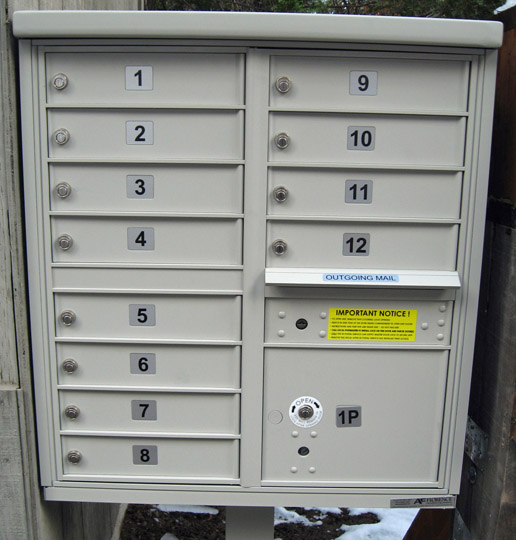 No mailboxes available
The locked mailboxes in the mailbox shed were all purchased many years ago. In recent years, many of you expressed an interest in purchasing locked mailboxes. A vote of the membership at the YWPHI annual meeting on September 6, 2009 approved a $2,000 budget to install a new mailbox cluster.
The installation of the new mailbox cluster was completed as of November 23, 2009. The cluster has 12 individual medium size locked mailboxes, one parcel locker and an outgoing mail slot.
YWPHI offered the mailboxes for sale to its members at a cost of $160 per mailbox; this was a one-time fee based on our costs to buy and install the mailboxes, not an annual rental fee. Once a mailbox is purchased, it's yours to use and resell and you wish.
Mailboxes were assigned on a first-come, first-served basis determined by when payment was received. First preference was given to ongoing YWPHI members. All the mailboxes have been sold; none are available.
---
Invited guests may request an Entry Slip from a ranger at any of the national park entrance stations and avoid being charged the national park entrance fee. The ranger will write the property owner's name and address, the guests' name(s) and date(s) of visit on the Entry Slip (a half page of yellow paper). When the guest arrives, the property owner signs the Entry Slip and returns it to the guest who gives it back to a ranger at any entrance station when departing the park.
Bears are active in Yosemite West this fall and broke into several homes this summer. Moose Mutlow of the NPS Bear Council presented suggestions to the community at the YWPHI 2004 annual meeting. Read about what you can do right now to decrease your risk from Living With Bears.
Please read the Guidelines for Yosemite West Residents & Guests online or print a downloadable version.
---
The non-profit International Dark Sky Association addresses the problem of light pollution to help preserve dark skies while maximizing the quality and efficiency of outdoor lighting. Here are some of their suggestions to minimize light pollution without compromising nighttime safety, security or utility:
Use night lighting only when necessary. Turn off lights when they're not needed. Timers can be very effective. Use the correct amount of light for the need.
Direct light downward, where it's needed. The use and effective placement of well-designed fixtures will achieve excellent lighting control. When possible, retrofit or replace all existing fixtures of poor quality. The goal is to use fixtures that control light well - minimizing glare, light trespass, light pollution and energy usage.
Use a low pressure sodium (LPS) light source whenever possible, which is the best light source to minimize adverse effects for viewing the night sky. LPS is good for street lighting, parking lot lighting and security lighting.
---
Yosemite West has two blue community recycling bins operating from mid-May to mid-Oct. One is at the condo parking lot and the other is on Henness Circle. Please review the usage guidelines. It's important that you rinse jars and cans and flatten cardboard before placing them in the bins. Pickup will be Tuesdays and Saturdays. Thanks to Rea Jackman for her hard work and perserverance coordinating this new program.

Proper handling of Garbage continues to be a problem. Please read 2016 notice Garbage letter to community

All rental owners need to ensure that guests are informed how to dispose of garbage legally. Any garbage left outside of dumpsters will attract animal nuisance and risk requiring killing of bears that become habituated.

All garbage dumpsters in Yosemite West are privately owned since there is no public garbage disposal system. Yosemite West residents can join the Yosemite West Trash Cooperative, space permitting, as a means to dispose of household garbage. This presently consists of one four-yard dumpster on Yosemite Park Way (Lot 207) and is available to cooperative members who pay a fee. The current fee is approximately:
$100 for part-time residents;
$200 for full-time residents; and
$300 for transient rental properties and Bed & Breakfasts.
The fee is collected approximately every five months and depends on the number of participants. The dumpster is emptied at least weekly depending on the season by Total Waste Management. Anyone interested in being added to the waiting list for the Yosemite West Trash Cooperative should contact Marcene Pedersen by email at yosemitewesttrashcoop@gmail.com or subscribe at Trash Coop signup
Dumping household waste in the National Park Service dumpsters is illegal and subject to a fine.
Bears are active in Yosemite West and have broken into several homes. Read about what you can do right now to decrease your risk from Living With Bears.
Also refer to the Guidelines for Yosemite West Residents & Guests.
Residents can haul oversized household trash and other materials to the Fish Camp Transfer Station, located on the Mt. Raymond Road next to the Goat Meadow Snow Play Park, approximately two miles north of Fish Camp along the east side of Highway 41. They accept household garbage, recyclables, appliances and furniture. Charges apply to some materials. They do not accept construction debris or hazardous materials.
---
Replacing older appliances and fixtures can reduce energy and water consumption while saving you money. For example, a front-loading clothes washer uses 85% less kWh/year and 50% less water per load than conventional top-loading washing machines. A typical household doing two loads of laundry per week can conserve more than 2,500 gallons of water annually. The savings will cover the cost of the appliance in less than two years.
Sears in Oakhurst occasionally offers rebates for free delivery of appliances to Yosemite West. Visit their website for offers.
Related Energy Efficiency Links:
Call PG&E's Smarter Energy Line at (800) 933-9555 or visit their website. Look for Energy-Star rated appliances; visit the Energy Star website for tips. The Consumer Energy Center offers statewide rebates.
---
Go to the Commercial Services page.
---
Contact the webmaster to post your notice here in addition to putting it on the community bulletin board in the mailbox shelter.
---
---

Site Map
Copyright text © Yosemite West Property & Homeowners, Inc. 2003-2012, Copyright photographs © John Mock 2004-2012.
All rights reserved. Unauthorized redistribution of this document is prohibited. Updated Jan 2017, tew.